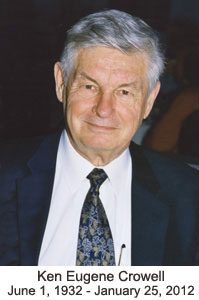 Ken Crowell, follower of Jesus and Galcom co-founder, passed peacefully into the presence of the Lord early Wednesday morning, January 25, 2012.
Margie, his wife of 57 years, sends her thanks to each of you who prayed for Ken during the past few months. He had been battling myelofibrosis, a type of chronic leukemia, for five years. For the last six months he was in hospital or full-time nursing care—with Margie always by his side. Behind the tears, Margie experienced relief and joy that Ken is free from his ordeal and with the Lord.
It is impossible to know the exact number of people whose lives have been impacted by Ken and Margie's faithful service to the Lord, but when we consider the outreach through MegaVoice and Galcom, it must be in the millions.
Throughout his life, Ken's calm, thoughtful, soft-spoken manner brought about many opportunities for him to testify to others about God's saving grace—including those with whom he interacted professionally. As a mechanical engineer, he conducted his business with such integrity that leaders in the corporate world took notice. As a result, many invited Ken to tell them about his faith in Jesus.
Whether it was ministering grace to unbelievers, or offering followers of Jesus employment opportunities in Galtronics, his high-tech company, Ken had his priorities straight. Thousands of families have been blessed with good jobs over the years, and the blessing continues to this day.
Today, the Galtronics name is recognized the world over for technological excellence, but few know it all began when Ken started using Margie's kitchen oven to "cook" specialty coatings on to experimental antennas. He loved telling about the day smoke from one of his "cooking adventures" filled the house and rolled out the door. Margie took one look at the billowing smoke and quietly informed him that he could bake either cookies or antennas in that oven—but not both. That was Ken and Margie—a loving couple who had fun kidding each another on life's journey.
In the 1980s, the Holy Spirit began speaking to Ken about the need for a revolutionary new kind of shortwave radio for missions work. The vision was confirmed the minute he met Harold Kent and Allan McGuirl at a missions conference in 1989. All three had been spoken to by the Holy Spirit about the exact same thing. They launched the Galcom ministry and immediately began developing the "Go-Ye" radio. Two decades later, more than 800,000 of these special radios have been distributed in 126 countries.
Even as the first radios were being sent to the Middle East, the Lord introduced Ken to Tom Treseder, an Australian with a vision to reach billions using a device yet to be invented—an audio Bible with no moving parts. Mission agencies were using audio cassette players, but they were always breaking down. 40 audio cassettes were needed to just to record one Bible. Considering the technology available in 1989, creating an audio Bible with no moving parts would be a total miracle.
They prayed, they persevered, and then prayed some more. Today, the solar-powered miracle called the MegaVoice holds Scriptures and Bible Stories in 4500 languages. More than a half million of these little players are in circulation so far, each being listened to by at least ten people. Millions have been reached with God's Word. Only in eternity will the final story be known.
Ken leaves behind a great personal legacy including three children—James, Judy and Hollie, ten grandchildren and three great-grandchildren.
Please continue to pray for Margie and the family.
---
Commit thy way unto the Lord; trust also in Him;
and He shall bring it to pass.
~ Psalm 37:5
---